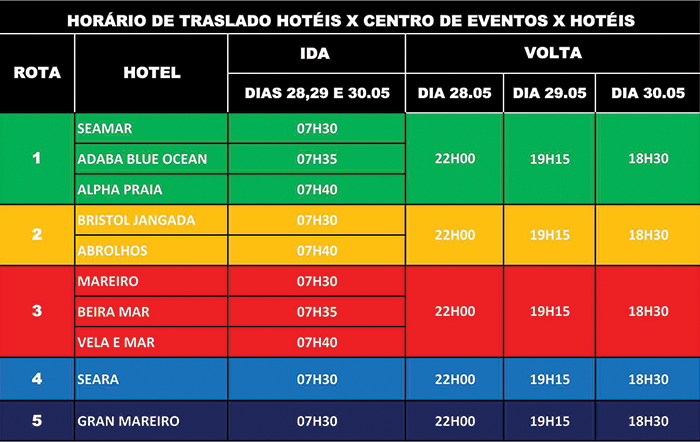 48º Congresso Nacional de Saneamento da ASSEMAE
Location:
Centro de Eventos | Fortaleza - CE
OFFICIAL EVENT AGENCY
Os hotéis oficiais do evento são o Seara Praia e o Gran Mareiro.
As passagens aéreas devem ser reservadas diretamente com a Naja Turismo, incluindo descontos de até 15%.
Recebemos pagamento com nota de empenho.

IMPORTANTE:
Valores diárias por apartamento em reais,
Café da manhã quando servido no restaurante do hotel.
Diárias iniciam às 14h00 e encerram às 12h00.
Não inclui: Taxas hoteleiras e extras de caráter pessoal.
Diária Extras utilizadas sob consulta, de acordo com a disponibilidade do hotel.
Taxa de turismo opcional paga direto no hotel.
Outros hotéis, sob consulta.
INFORMAÇÕES ADICIONAIS:
Site do Evento: http://www.assemae.org.br/congressonacional

Realização: ASSEMAE
Secretaria Executiva: http://www.assemae.org.br
Contato: + 55 61 3322-5911
AGENCIA OFICIAL: NAJA TURISMO LTDA
Tel: 0800 280 1122 – Capitais e Regiões Metropolitanas.
Pabx: + 55 85 4008-5900
WhatsApp: +55 85 9 9727-0006
Site: www.najaturismo.com.br
Packeges before and after the event
Cancellations and Refunds
Cancellations: will only be accepted / permitted requested by e-mail thru the owner of the reservation.
After the 1st payment, penalty of 10% (ten percent) of the amount paid.
Up to 30 days prior to the trip, penalty of 20% (twenty percent) of the total value of the travel package.
After this time NO REFUND.
All refunds will only be returned to the payer of the service, either by credit card or bank transfer.